Reach your goals in a smart way.
Investing in hot startups and "next big things" was a privilege for the richest 1%.
Now it's
your
privilege.
Join waitlist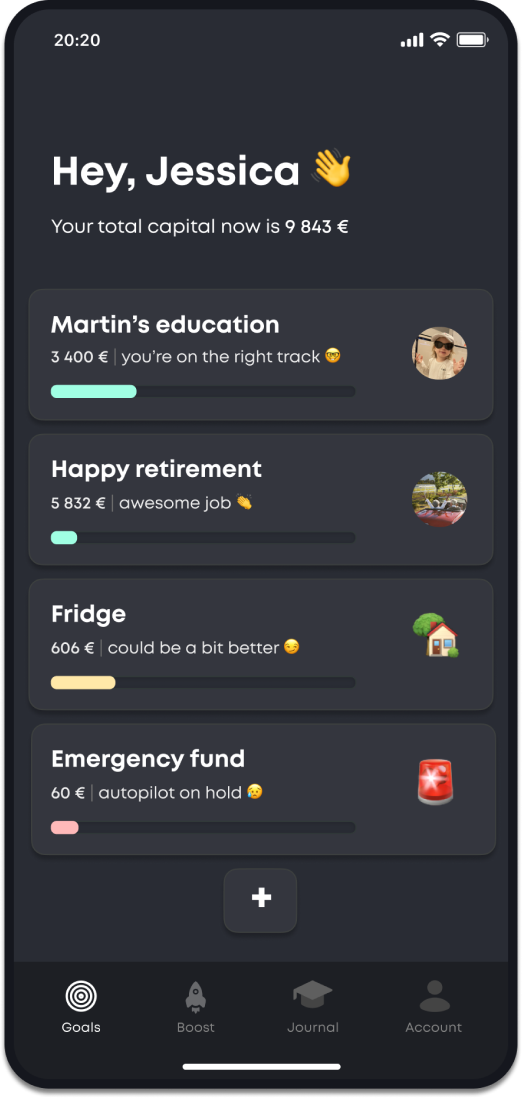 Let's say you start saving
Your kid's capital in 18 years may reach:
61 544 €
if you save with Grows
or
11 271 €
if you save in a bank
Building a 500k EUR retirement fund may take you:
25 years
if you save with Grows
or
330 years
if you save in a bank
This is a hypothetical result, based on calculations. Investing is risky, actual result can not be guaranteed.
No tricks.
Just science.
Yale studies show
that you should invest
super-aggressively
while young to achieve better diversification across time.
Grows wraps this science into a slick product
Smart. Marvelous.
Portfolio
Your asset allocation smartly modifies as you approach your goal's date
Years remaining to goal's target date
← Your goal's target date
30% Moonshots.

Assets that might be the next big thing: crypto, NFT, metaverse, Web3 and others

30% Venture.

Global startups backed by professional top-tier venture funds

30% Stocks.

Shares of thousands of global companies via low-cost ETFs from Vanguard

10% Bonds.

Conservative assets: government and corporate debt

0% Cash.

EUR for fulfilling your goal
🌖 Moonshots
You'll never miss out the next gamechangers
+38,900%
6 years gain

Monero
+9,965%
6 years gain

Bitcoin
+9,830%
2 years gain

MANA
+11,900%
18 months gain

Solana
+14,600%
18 months gain

Polygon
+1,580%
2 years gain

Atom
+3,450%
3 months gain

Waves
+7,670%
18 months gain

The Sandbox
+3,990%
2 years gain

Theta
+8,840%
1 year gain

Axie Infinity
Past performance does not guarantee future performance
Some will definitely fail.
But some will rise up to the moon
🦄 Venture
You'll have a seat in the hottest startups, well before they skyrocket
100x
Return on investment that early-stage venture investors shoot for
We pool our users to invest alongside
top-tier global venture funds
All that — on autopilot
Grows will keep an eye on your goals while you're enjoying your life.
Once the goal is set — Grows will be saving and investing for you automatically.
No hassle, time and efforts dedication.
Let others boost your goals
Your kid's grandma would love to contribute to your kid's future? No prob, just send a link.
Ah, your favorite brands will also be happy to take part.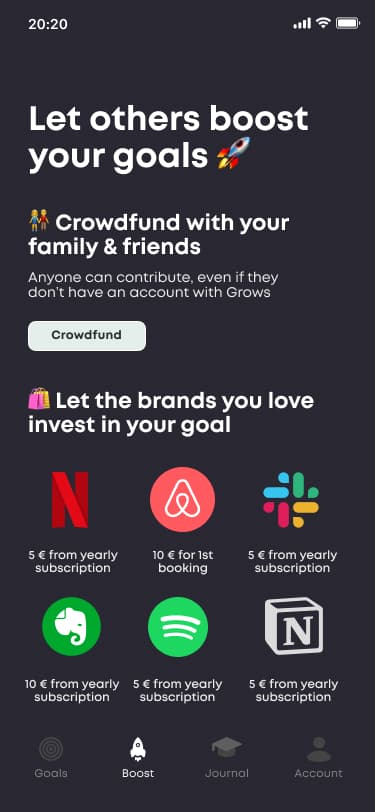 Ah, your favorite brands will also be happy to take part.
We build Grows for ourselves. This means a lot:
Low fees

No one loves fees. We make sure to bring the costs as low as possible and eliminate any hidden things.

Security

We deploy bank-standard security technologies in accordance to EU laws.

Privacy

Your information is secure, confidential and only used for creating an account compliant with EU laws.
Dmitrii Samoilovskikh
Founder of Grows, Forbes 30 Under 30 Europe:
"The idea of Grows came about when I took my wife to the hospital to give birth to our first kid.
On the way home, a sense of impending responsibility overwhelmed me: "a new person is about to appear - why should she be at the risk that I am taking?"...
Read full story
Why people ❤️ Grows
A cool app that allows me to
invest free money and not load my head with stock picking and monitoring the market. Keep it up!)

The app is awesome! The best for passive investments I have ever seen 👍

As a poor and prudent student, I want to invest my savings, because if they just lie on a bank account I'll never become financially independent.
Join waitlist
Join now to start your journey earlier.